RefWorks is a web-based product that simplifies the process of documenting sources in a research paper, dissertation, or other project requiring references. It helps you to create and manage collections of references using a web browser, to import references from a number of online databases, and to create bibliographies that can be inserted into word processing documents. Before using the product, please read the following instructions. This service is for students, full-time faculties and staffs, and research fellows of International Christian University having a university e-mail address "@icu.ac.jp" in accordance with license contract.
[For Your Reference] Citation management tools other than RefWorks
There are other citation management tools such as ZOTERO, Mendeley and EndNote. Please be informed that the Library cannot provide supports regarding these softwares.
Registeration: using for the first time
step
1. Please access to the RefWorks Login Center from a computer of the Integrated Learning Center, the Othmer Library, or any other computers connected from the ICU network.
2. Click 「新規アカウントを申し込む」("Sign Up for a New Account.")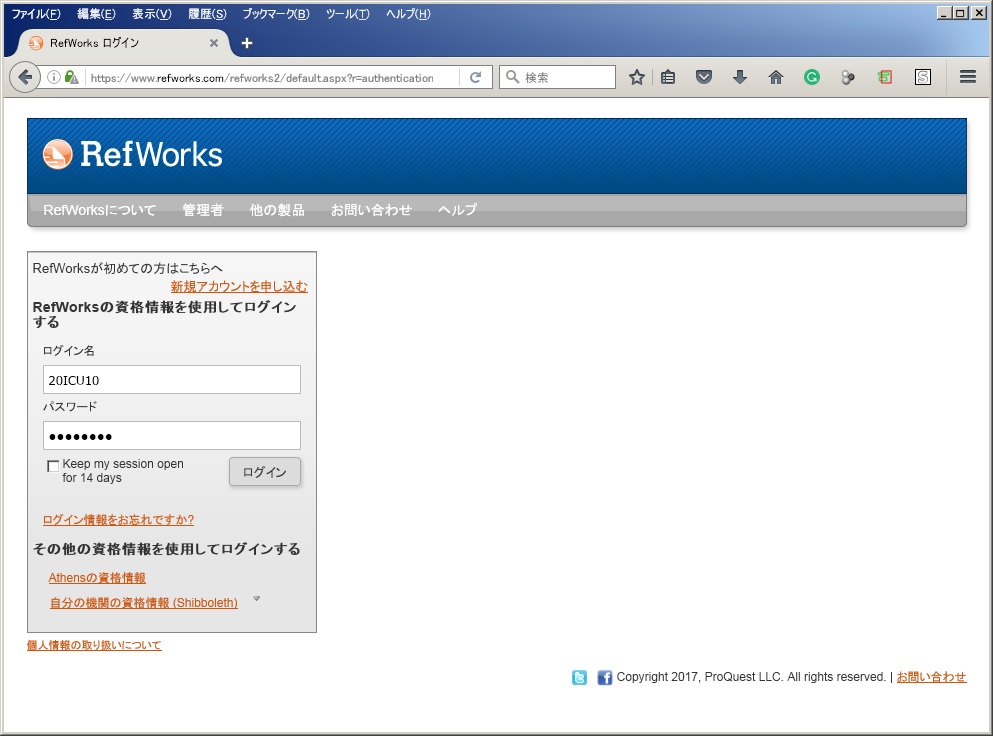 3. Click [Next] button, after typing e-mail address --your ICU e-mail address, arbitrary login name and password.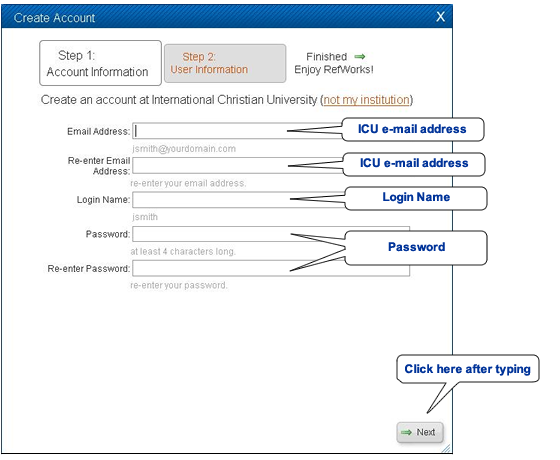 4. Please keep the Group code at hand. The Group code will be noticed to your registered e-mail account. The Group code is necessary to access from outside of ICU network.
Quick How to use
Login to RefWorks
Create, import Reference data
Browsing reference data
Creating bibliographies
How to use Write-N-Cite
Write-N-Cite is the Microsoft Word addon that allows you to insert references from your RefWorks library into your manuscript. For the way to use Write-N-Cite, please see the following site.
How to use Refworks after your Graduations
From AY2009, you, graduating students, will also be able to use RefWorks after your graduations by completing the designated procedure. There is no charge for this service. Please note that this service may not be available due to change in the contract. The support services of RefWorks for graduates will be provided by ProQuest (provider and sales company of RefWorks).
International Christian University Library 10-2, Osawa 3-chome, Mitaka-shi, Tokyo 181-8585 Japan
TEL: 0422-33-3668 FAX: 0422-33-3669 Email: library(insert an at mark here)icu.ac.jp