History
Short History of the International Christian University Library
1952-1959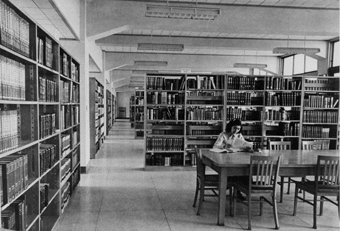 The ICU Library was first built in "Honkan" (the main building of the university) in 1953 at the university's foundation. "Honkan" was originally built for Nakajima Aircraft Inc. during WWII where aircrafts were designed and manufactured. Extraordinarily thick walls tell us today the history of the building.
1960-1972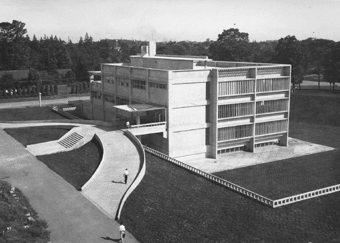 In 1960, a new three-story Library building was completed. Mr. John D. Rockefeller, 3rd, a former ICU student, was the principal benefactor of the building and fifteen major Protestant denominations in North America made a grant to support the Library building project. Antonin Raymond, an architect who worked under Frank Lloyd Wright during his Japan years and who left behind enormous legacies to Japanese architects, was chosen as a designer of the new library on the cutting edge. A library building consultant Mr. R.B. O'Coner was invited and Library Director Ms. Takahashi in cooperation with Mr. Raymond, succeeded in bringing the state-of-the-art theories of library science into the new building.
1973-1999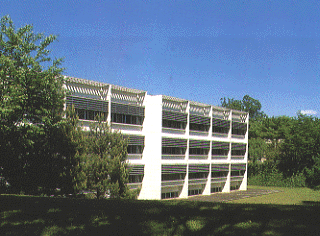 Extension of the building in 1972 doubled the size of the stacks, but by the mid 80's, the.stacks could no longer hold any more books. The Library began to send out books to remote commercial storage. During l980s information technology started to bring changes to library operation and management. At the ICU Library, the first cooperated cataloging system was adopted. . In 1983, computerized circulation management system started. In 1991, Online Public Access Catalog became available to all users. ICU Library has always been the pioneer in applying new concept and technology to better serve its library users.
2000-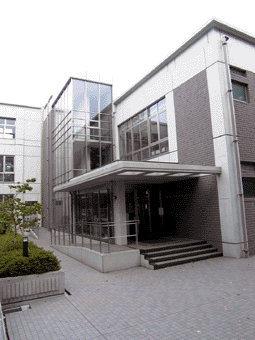 In 2000, the Mildred Topp Othmer Library was completed as one of the 50th Anniversary project. This building consists of large study area on two floors with 120 workstations for study and research, Multimedia Room for classes and instruction, and three Group Study Rooms for discussion and group works. Automated Storage and Retrieving System, the first model in the country, was installed underground. The ASRS operates with the library system's link to the storage's web server where a high-speed robot stores and retrieves a book in about 2 minutes.
The two buildings combined have become a new center of ICU, a place for learning, for access to print and digital resources and for communication with faculty, colleagues and librarians.